Macbrew
Round about the cauldron go;
In the poisoned entrails throw:
Macbrew is an exciting new theatre piece for families which brings together Shakespeare, British Sign Language and spoken English. Three characters based on the weird sisters of Shakespeare's Macbeth meet in a café to recite an incantation from the play and summon the spirit of Shakespeare.
Integrated British Sign Language and Visual Vernacular make the performance accessible to both hearing and non-hearing audiences, offering an unintimidating introduction to the work of Shakespeare for family audiences.
Double, double, toil and trouble;
Fire burn, and cauldron bubble.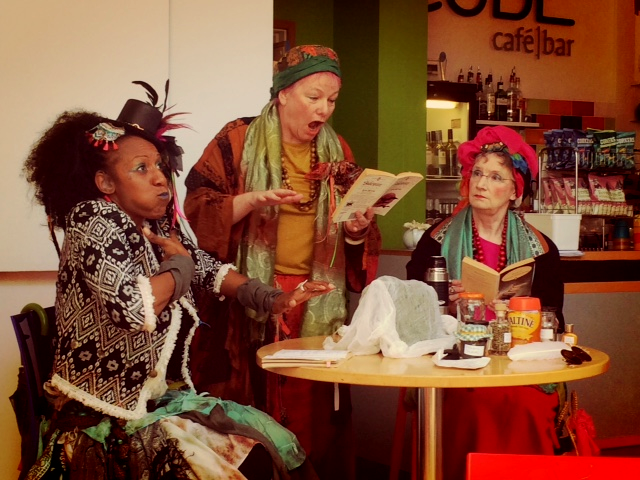 Macbrew is currently taking bookings for Summer 2017. For more information contact James Varney on mrvarney@hotmail.co.uk.
Macbrew was first performed as a series of pilot performances at Derby Festé 2015, and was performed in a later preview performance in the Cube café at Déda, Derby in August 2016. The piece is written and directed by James Varney, with mentor support provided by 1623 theatre company and Ben Spiller.
The current cast includes Donna Mullings, Caro Parker and Libby Wattis (pictured above, L-R). BSL dramaturgical support was provided by Rebecca-Anne Withey and design is by Amy Nicholson.
The pilot performances at Derby Festé 2015 featured Vilma Jackson, Helen Fullerton, and Bernie Barrett.
Much valuable support was also provided by Sarah Gatford, Emily Howlett, PAD Productions and Graeae Theatre Company.
The project has been supported by Arts Council England, and Derby City Council.